►
en français
Music-valley.org – Musique en la Vallée
The High Allier heritage area

The hills and valleys around Brioude and Langeac
A heritage area in
every
sense - history, culture
and
environment
Straddling the A75 motorway at the point where it enters the high country of the
Massif Central
, the north of the Haute Loire department, from Auzon to Chanteuges via Brioude and Langeac, offers a wealth of opportunities in terms of heritage tourism, ecotourism and visits. Whether in the "Pays d'art et d'histoire" (rural heritage area of outstanding artistic and historical value) or in the immediate vicinity, this is an area that abounds in historic monuments, castles, old abbeys and churches, remarkable landscapes, and other unusual tourist attractions such as underground visits in a Gallo-Roman tin and antimony mine, the French Resistance museum at Mont Mouchet, or the birthplace of Lafayette.
Picture right
: God - detail from 14th century murals in the church of Saint Cirgues.

In the valley of the Allier :
From north to south
Auzon




Historic village

built on a promontory around the abbey.

Collégiale St. Laurent.

12th century romanesque church, 14th century murals. Guided visits until 12/09, at 10 am and 3 pm.

Brioude




Aquarium

, Freshwater aquarium telling the story of the Allier, one of France's main salmon rivers

Le Doyenné

- The medieval deanery, with its unique 14th century painted ceiling, is now an arts centre hosting major exhibitions each summer. 2018 Chagall - 2019 Miro - de Staël - 2022 Picasso

Maison de la Dentelle

- lace museum

Old streets

- medieval houses, weekly market Saturday morning





St. Julian's Basilica

- the largest romanesque church in Auvergne, and one of the finest. Classed with the top three-star ranking by the Michelin Green guide. Medieval frescoes, carved capitals, stonework, and a remarkable mediaeval mosaic floor. The location for several concerts. Visits in July and August daily Tuesday to Saturday. 11 am, 3 pm, 4.30 pm. The 3pm visit lasts an hour, the others half an hour.

Vieille Brioude




Musée de la vigne -

this museum tells the story of Haut Alliers heritage as a wine producing area

Stone bridge

- Fine 19th century single-span stone bridge over the Allier


Medieval hump-backed bridge

at La Bageasse


Site

of the village.

Small romanesque church

Saint Ilpize.




Mediaeval fortress,

standing atop a volcanic rock, three hundred feet above the river Allier below. Free access.

* Old

suspension bridge

, high above the river Allier. Built in 1879 by Arnodin, this was the first modern suspension bridge in France.

*

Vine conservatory

- collection of historic varieties in a restored vineyard.

Late romanesque early gothic parish church, with vestiges of mural paintings. There is also a delightful small romanesque chapel in the castle.

Blassac




This small parish church boasts a fine collection of 14th century frescoes or murals, including the two famous trumpeting angels.

Lavoûte Chilhac




* Magnificent late medieval triple-arch stone

bridge

across the river Allier

* Maison des Oiseaux -

museum

and diorama of the exceptionally rich bird life in the Haut Allier.

* Clunisiac

abbey

, formerly a major monastery, founded in the 11th century. Important medieval polychrome crucifixion.

Saint-Cirgues


Saint-Cirgues


Mediaeval church, with a remarkable collection of murals (14th and early 15th century), some in very good condition.

Chilhac:




Small town

perched dramatically on top of an old volcanic lava-flow, beside the river Allier.

* Amazing basaltic "

organ rocks

", and 19th century suspension bridge over the Allier.

* Christian Guth

Paleontological museum

, small, but top quality museum with the fossilized remains of mastodons, rhinoceros and other creatures that inhabited this area 2 million years ago.

Peyrusse




Abbey, with remarkable mediaeval polychrome sculptures.

Aubazat




Mediaeval church, with remarkable polychrome sculptures, and some remaining mediaeval wall paintings.

Langeac:




Attractive historic town centre.

Market

on Thursday mornings.

Tourist train

up the Allier Gorge.

Website

.

Chanteuges




Romanesque abbey and cloisters

perched on a rocky outcrop above the village and the river.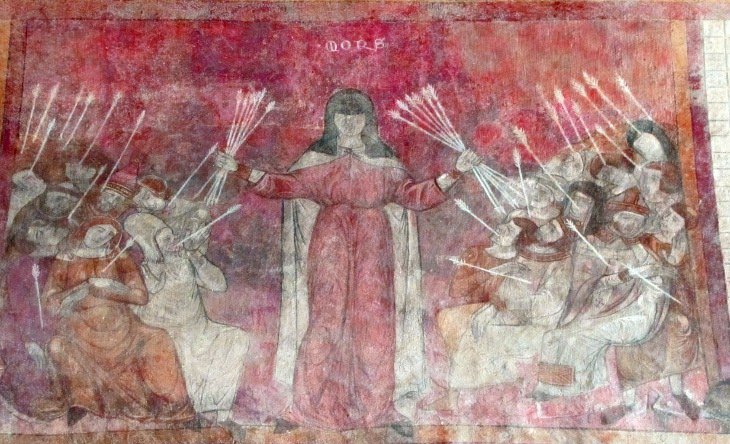 Medieval fresco depicting Death, in the abbey of Lavaudieu. Dated 1355
In the Pays d'Art et d'Histoire area - valleys of the Allagnon and the Senouire, and in between
Ally:

Gallo-roman

antimony mines, with guided underground

visits

.

Historic windmills




Blèsle




Ancient city

- listed as one of the "plus beaux villages de France". Old houses,abbey church




Chaviniac Lafayette




Stately home :

the historic seat of the Marquis de Lafayette - of specific interest to American visitors



Domeyrat


Near Paulhaguet. Fine

mediaeval fortress

, with living history activities in summer.

Léotoing




Hilltop village overlooking the valley of the Allagnon. Impressive ruins of medieval castle, renovated terraces, magnificent views.
Paulhac (near Brioude)




Château

de Paulhac. mediaeval castle overlooking the Brioude plain

Lavaudieu:

Tourist information office.

Listed as one of the Plus beaux villages de France


Abbey

church and the finest

romanesque cloisters

in Auvergne, with the remains of a medieval convent. Both the church and the ancient refectory contain remarkable and unique medieval

frescoes

. Visits daily in summer.

Museum

of local traditions
Outside the "Haut Allier" heritage area.
Within 50 km
Le Puy en Velay
Remarkable romanesque cathedral and cloisters, with unusual use of coloured stonework. One of the main departure points on the great pilrimage route to Compostella.
Chapelle St Michel de l'Aiguilhe, le Puy
Tenth century hermitage chapel perched on top of a spire of volcanic rock.
Abbey of La Chaise-Dieu
Ancient Benedictine Abbey, founded in 1043. Famous for its remarkable mediaeval fresco of the Dance of Death, and for its classical music festival in August.
Le Mont Mouchet,
Museum of the French Resistance
Well presented museum commemorating the activities of the French Resistance in this area in the Second World War.
►
Discover More
Auvergne guide
on About-France.com
Music in the Auvergne
-
"
Music-valley
" is the High valley of the river Allier, covering the rural district areas of
Brioude
and Langeac, in the department of Haute Loire, Auvergne, southern France. The
music season
in the valley is a relaxed affair, and unique in rural France by its extent and its duration. The venues are mostly small, the performers good - often top quality, but the prices reasonable. Some concerts are "give what you want", some are free, most are less than 20 Euros. Only the full concerts in the basilica at Brioude and those organised by the La Chaise Dieu music festival are a bit more. Unlike any other summer music programme in rural France (and there are plenty of them), this is a fringe without a festival, two months of music for pleasure, organised by musicians themselves, volunteers, villages and cultural associations.
The high valley of the Allier heritage area
stretches from Auzon in the north to Pébrac in the south, and includes the communes (rural areas) of Auzon, Bournoncle St. Pierre, Brioude, Vieille Brioude, Saint Ilpize, Villeneuve d'Allier, Blassac, Lavoûte Chilhac, Chilhac, Aubazat, Langeac, Chanteuges, Saint Arcons, Prades, and more. It includes the valleys of the Allier and its tributaries, the Allagnon, Senouire and Doulon, and the hills between.