The unspoilt natural heritage of Haut Allier
~ the great outdoors around Brioude and Langeac
A heritage area in
every
sense - music, history, culture
and
environment
Before there was music
, there was the Haut Allier. And if artists and musicians have settled in this part of deepest rural France, it is not because the area had any inherent musical tradition; it didn't. Before the artists and musician arrived, there was just a rich historic and natural heritage. Artists and musicians have come here for the environment – a magnificent natural environment that to this day is prized by those who love the great outdoors. This is an area with remarkable wildlife, a profusion of wild flowers in Spring, birds, butterflies, reptiles and other creatures great and small throughout the year. In this part of the Haute Loire department, there is always something to do outside; miles of old tracks for rambling, rivers for sport or for relaxation, a natural environment to be enjoyed, photographed, painted, and taken away in memories.
Hills and dales
River sports
Kayaking, rafting, swimming, angling.
A number of organisations hire out kayaks and canoes for the afternoon, the day, or longer. Kayaks can be hired in Brioude, Lavoûte Chilhac, Chilhac and Langeac, and the kayak hire companies provide a minibus service to take their customers back to their departure point at the end of the journey.
The river Allier between Langeac and Brioude is ideal for beginners and all ages. However, the stretches of calmly flowing water are interspersed with gentle rapids, so beginners ned to be accompanied.
White-water kayaking is possible upstream from Prades, just south of Langeac.
There are beaches all along this part of the river, and river swimming is a popular activity in the warm months of summer.
Angling:
Short term fishing permits can be obtained. Once France's major salmon river, the Allier is in the process of being restocked. Salmon fishing is not yet permitted (and will be very expensive when it is), but the river offers opportunities for fly fishing and normal angling.
Geology
Volcanic heritage
The Auvergne is one of the largest volcanic areas in Europe. The volcanoes are dormant, but the landscape and topography of the Haut Allier were formed by volcanic activity that occurred many thousands of years ago. Up and down the valley, amazing natural basalt "organ rocks" (as in the Giant's Causeway in Northern Ireland) are a feature of the landscape. The perched village of Chilhac sits on a volcanic bluff, with some magnificent organ rocks at its base. The chateau of Saint-Ilpize sits on a volcanic spur, and at Blot, near Chilhac, and Prades south of Langeac, whole cliffs of organ rocks offer incomparable landscapes that are hard to match.
Other outdoor pursuits
Hiking, rambling. The area offers magnificent opportunities for hiking and rambling. There are kilometres of old paths and tracks, many of them marked, others needing the help of a detailed map or gps. For the less energetic, there are short walks without much climbing; but for the energetic, there are trails climbing from the valley floor , to the summits of the hills all around, some of which are over 1000 metres.
Mountain biking, cycling
Generally speaking, the Haute Loire department has one of the most extensive networks of marked cycling trails of any department in France. The area round
Brioude
is particularly well equipped in cycling trails for all types of cycling, including road routes (Brioude has twice been a staging point on the Tour de France in recent years), cycle tourism trails, mountainbiking circuits and e-bike trails. In 2019, there are 14 graded and waymarked cycle circuits in the area of Brioude, (see
cycle circuits map
) and eight more around Langeac to the south. The V70 cycleway linking the EV5 Loire Valley Euro cycle route to the Mediterranean follows the Allier valley throughout the Haut Allier area, from Auzon in the north s far as Prades in the south. The detailed route can be seen on this
map
.
Bird watching, ornithology, etc.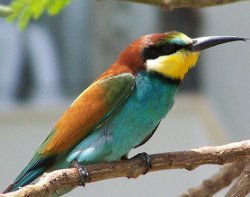 The High Allier valley is extremely rich in
bird life
; it includes Europe's largest concentration of short-toed eagles, as well as eagle owls, harriers, shrikes, golden orioles, and plenty more to whet the appetite of bird-watchers. The Upper Auvergne. bird centre in Lavoute Chilhac organises birdwatching field trips. During the warm months, the area also abounds in butterfly life, with a rich variety of different species.
Flora, botany.
The area is remarkable for its distinctive plant life. Near the villages of Chazieux and Chilhac, small prickly-pear cacti grow in the wild; and in spring time, orchids grow profusely on the dry hillsides. There are also rare Pasque flowers, and a wealth of other wild flowers.
Horse riding
Guêpier, photo de William Kreijkes - licence GNU. Autres photos Music-valley.org
Photo top of page - the Haut Allier valley between Brioude and Lavoûte Chilhac

Music in the Auvergne -
The
music season
in the valley is a relaxed affair, and unique in rural France by its extent and its duration. Apart from thge Basilica in Brioude, the venues are mostly small, the performers good - often top quality, but the prices reasonable. Unlike any other summer music programme in rural France (and there are plenty of them), this is a fringe without a festival, two months of music for pleasure, organised by musicians themselves, volunteers, villages and cultural associations.
Musique en la Vallée association invites you to discover our sponsors
Patisserie chocolaterie Jacques Legrand,

Master chocolate maker
Patisserie
rue du 4 septembre Brioude
04 71 0 23 16
La Mirandelle -

Tearoom & café

Beside the Basilica
Brioude
04 71 74 90 01
Ets. Oléon
Cycles & D-I-Y store
Rue Croix st Isidore
Brioude.
Website
Escandilha
Local arts and crafts
19 r Sébastopol - Brioude
On Facebook
Ets. PIC
Household goods and TV
Hifi - satellite -TV
kitchen equipment
Brioude
Website
Briva-Bio
Bio-coop
. Alimentation bio -
organic produce
Place du Postel - Brioude
Website
Ets Cornaire
6 rue des Ecoles, chappes,43390 Auzon
Central heating systems, plumbing experts, solar panels, heat pumps - systems renovations.
Website
Librairie Vercingetorix
Livres, beaux arts, fournitures de bureau.
Bookshop, fine arts, postcards
14 Bd Vercingetorix - Brioude
On Facebook
Le Saint Julien
Restaurant - Pizzeria.
Beside the Basilica, Brioude.
Website
La Banque Populaire
Auvergne Rhône-Alpes
Cooperative bank
Branches in
Brioude and Langeac

Website